We see so many design trends in Ecommerce websites, such as animation, advanced filtering, videos and 360-degree product previews. However, trends like these don't guarantee sales. Every Ecommerce site should have certain features to stay relevant and competitive. Here's our list of must-have features, to attract visitors and increase your conversion rate.
Easy website navigation
Easy to use navigation plays a huge part in having a successful Ecommerce website. If a visitor to your online shop can access your products or services with ease and find something to meet their needs, the chances of them making a purchase increases greatly.
Categorising your products makes it easier for your customers to browse. Plus, having a decent website structure will also help search engines, like Google, to crawl and rank your website. If you are looking for products online, you will usually find online stores that have a good navigation structure ranking towards the top of page.
Simple navigation is also important for a visitor to be able to checkout as soon as possible and complete their purchase.
Search option
All good Ecommerce websites should have a search box in an easy-to-spot location. This allows your visitors to quickly find exactly what they're looking to buy. The longer it takes your visitor to find what they're looking for, the less chance you have of making a sale and head off to one of your competitors.
Here are some great examples of how other businesses are making it easy for their visitors:


If a visitor can quickly find exactly what they're looking for, you'll have a better chance of converting them into a customer.
Clean website design
Did you know it only takes a visitor around 3 seconds to decide whether to stay on your website or head off to a competitor?
The design of your website will have an impact on how your visitor views your business and products. A website should be clean and avoid unnecessary features, which can take away from what your business is all about. Successful Ecommerce websites have a home page that is inviting. It should entice your visitors to click on your products or categories and begin the process of browsing, adding products to their cart and checking out.
High quality content
The content on your website should be aimed towards your visitors. It should provide them with enough information to help them understand whether the product is right for them. If your content is of good quality, it will encourage your visitors to stay and increase the chances of making a purchase and even return to your website.
Good quality content will also help you rank in search engines, like Google. Your content, at it's most basic, should be:
Useful and informative
More valuable than your competitors
Credible
Engaging
With these elements in place, you maximise the potential SEO value of your content. But without them, your content won't have much value.
Accurate product descriptions
Product descriptions are crucial for any Ecommerce business and can help increase sales. If you're selling your products, you want to make sure that your descriptions are enticing and informative. They improve your customers' experience by making your site look professional and helping you sell (and upsell) your products. When writing the descriptions for your products, these tips might help:
Don't fill your descriptions with unnecessary words
Fully explain your product or service
Don't have the same description for multiple products
Write your descriptions with your visitors in mind
Double (and triple) check for any spelling or grammar errors
Include at least 1 image
Suggestions for upselling
Related product suggestions are a fantastic way to increase your sales. Not only does this feature improve customer experience by helping visitors view more products in your shop but can also help upsell accessories and related items.
For example: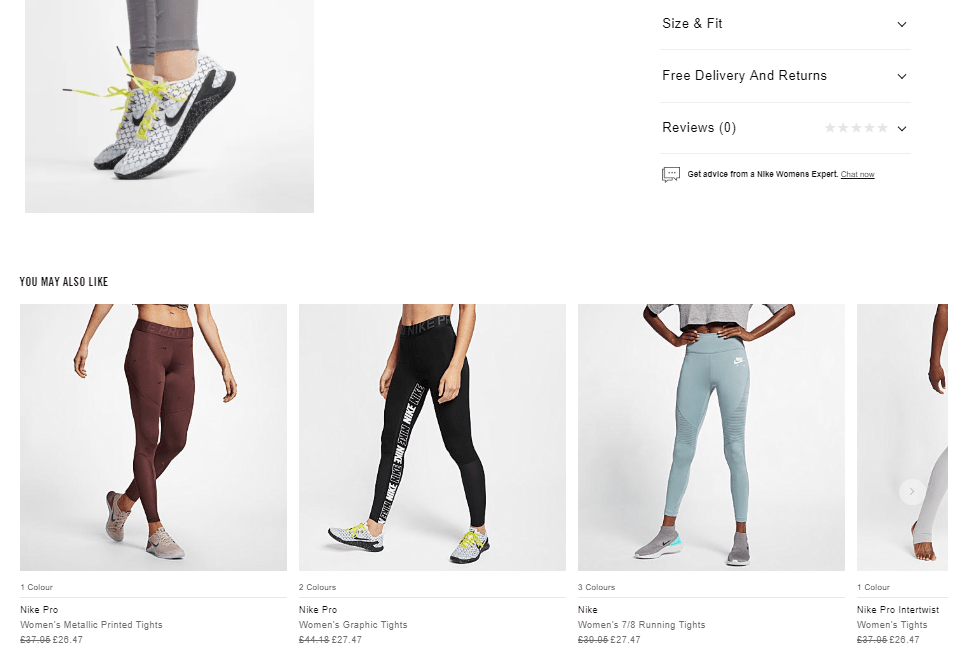 Above, we searched for a pair of trainers, added them to our basket and you can see that they're upselling leggings. When clicking to look at the leggings, they're showing us other items: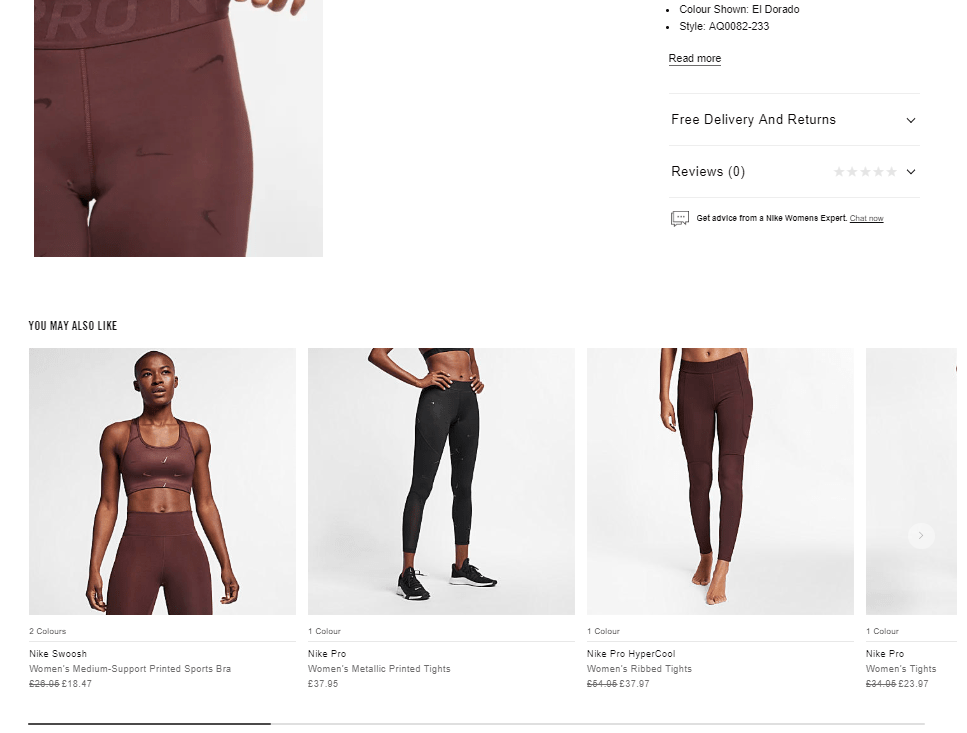 And before we know it, we've added a whole outfit in our basket and the seller made a sale of £119.89 – an increase of £45, just by offering additional products based on the customers behaviour!
Remember, the more your visitors browse your site, the more they'll remember what you have to offer. Plus, it keeps them coming back for more.
High quality images
Shoppers like to look at an image to get an idea of what they're buying. It's essential that your images are high quality, for the success of your Ecommerce shop and can make or break the sale.
Your images should be high quality and detailed, as it gives customers a clear visual of the product and helps them to decide whether the product quality is good or bad. It is proven that products with high quality pictures have higher conversion than products with low quality images.
Delivery and returns
When you buy something online, you want to know when you're going to receive your item. As well as this, you'll want to know how to return your item and receive a refund. Delivery and returns information are key features for Ecommerce websites, as they help to build customer trust in your brand.
Usually, the delivery and returns information page can be found in the footer of an online shop. This information is important for retailers as that industry see a high volume of items returned.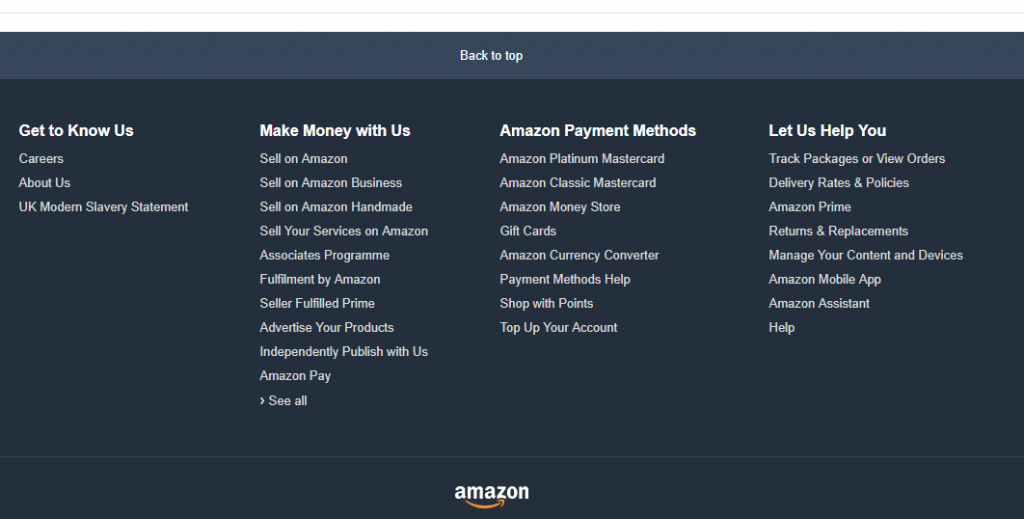 Selling points
Why should people buy from you, over your competitors? What can you offer, that they don't?
Ecommerce is quickly becoming more popular, as it's so easy to shop online. No matter what you're selling, there's a high chance that you will have competitors. It is important that you highlight the advantages your customers will receive by making a purchase on your website.
You'll quickly want to show your customers why they should shop with you. Letting your customers know that you're the best choice for them will increase your sales and boost your brand awareness. Here are some ideas for you to think about:
Free delivery – this could be as standard, or you could include something like 'on orders over £XX.XX to boost your average order value.
Next day delivery – builds a trustworthy relationship with your customers.
Reward points programme – builds a loyal customer base.
Percentage based sales – this could be on certain products or a flash sale on your entire product base.
Buy one get one – either free or save to keep driving those sales!
Quick checkout
A checkout function on a website is another important part of Ecommerce websites. The checkout must be quick and simple. The easier you make it for your customer to make a purchase, the more profits you'll make.
If you have an overcomplicated checkout, you are more likely to have a large number of abandoned carts. It also may be worth setting up a guest checkout feature on your website, giving people the option to buy a product, without setting up an account on your website.
Website security
This is the most important feature for Ecommerce websites. With cybercrime on the rise, it's vital that you do all you can to protect your customers.
An SSL certificate will encrypt any sensitive data, such as credit card details and login credentials, to stop a hacker gaining access to important personal information. Plus, SSL certificates aren't just good for security… Google have made it clear that HTTPS is factored into ranking!
Increasing the security of your website with plug-ins to prevent hacking attempts, is another great option. SiteLock closes security gaps by monitoring your site daily, to detect any malware, identifies vulnerabilities, virus scanning and more. SiteLock will automatically fixes any threats, prevent future attacks and even increase the speed of your website!
Customer support
Some customers may need help when buying a product online and most customers would want to know that support is available if they need it.
Online shops should have customer support information, such as phone numbers, links to a customer support page or live chat. Showing your customers that help and support is available lets them know that you care about them.
Share your thoughts…
Are there any features that you think are important for an online shop? What features are a must have for you? Let us know by using the comment form below and share your thoughts to help other businesses along their journey!