Introduction
Welcome to the second part of our "Website Builder Widget of the Week" series, exploring some of the lesser-known but essential widgets bundled with several Website Builder packages.
In last week's entry we explored the Before & After widget, a great tool for creating eye-catching visual comparisons. This week we'll take a look at a widget which, whilst not as attractive, provides one of those "must have" features that you'll wonder how you coped without: the Zoom Meeting widget.
What is the Zoom Meeting widget?
The pandemic has fundamentally changed consumer habits, perhaps forever. Remote working has become the norm for many people, with in-person meetings often reduced to essential cases only.
The Zoom video conferencing service has become hugely popular, with both individuals and businesses appreciating the simple convenience of being able to chat to clients or suppliers without having to leave home.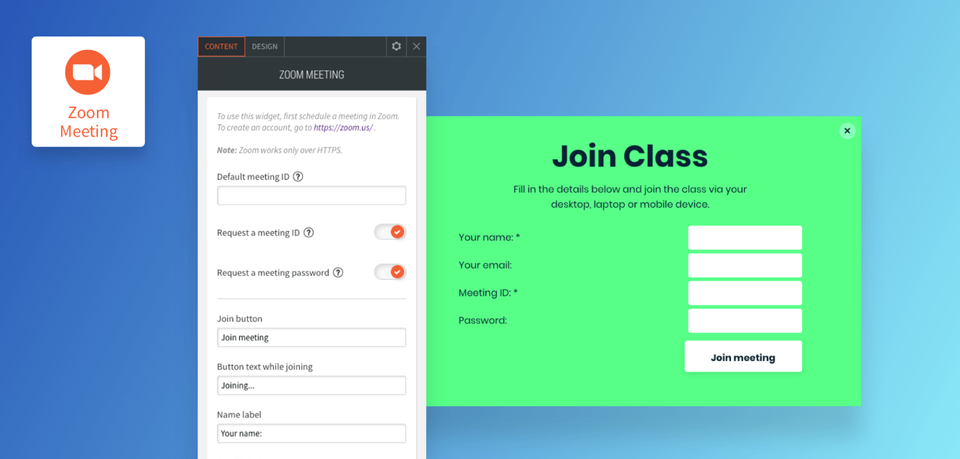 A simple setup integrated directly into your Website Builder editor allows you to provide a form on your website that visitors can use to join a Zoom meeting you have created. This is a quick and effective way of gaining new customers, engaging with your client base and solidifying your brand reputation.
How does it work?
If you've already got a Zoom account and created a video conference before then you're already off to a flying start! All of the meeting settings that the widget will use are setup in advance via your Zoom account at https://zoom.us.
It's then just a case of opening the Widgets section of your Website Builder editor and looking for the Zoom Meeting widget. It's usually located in the Social section around halfway down the list. Drag and drop it to wherever on your website you'd like it to appear.
You'll see it helpfully adds a form into which people can insert their name, email address, meeting ID and (if required) password to join the meeting. If you click on this within your Website Builder editor you'll get a popup window which allows you to customise the labels, colours and design of this form.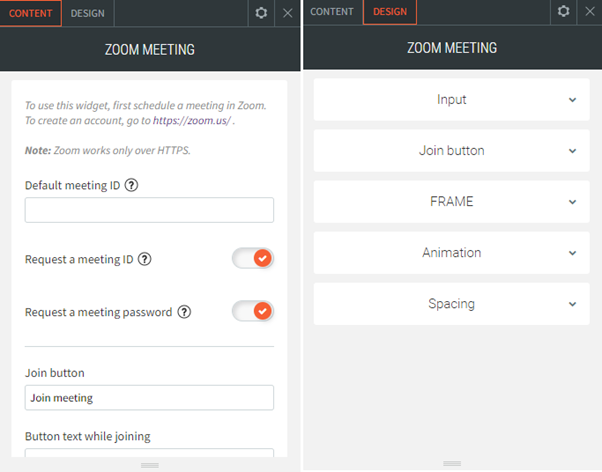 How is it best used?
Not only is the widget perfect for keeping in touch with customers if your physical premises are closed or you're having to self-isolate, it's also ideal for attracting new business and boosting awareness of your brand.
Here are some examples:
Restaurants: You could host online cooking demonstrations, showing people how to create amazing dishes and encouraging them to book a meal with you.
Therapists: Hold remote, face to face meetings with your clients. You'll be easily accessible to them whenever they like, all from the comfort and familiarity of their own home.
Yoga Teachers: Host an online yoga class where people can join in and follow along with you. Those stuck at home may relish the opportunity to stay fit and keep active, and you'll hopefully earn yourself some repeat business.
Private Tutors: No need to visit a student in person when you can conduct the lesson remotely via video conference. Simple, hassle-free and convenient, at a time that suits all of you.
And many more…
Stay in touch with customers, promote brand awareness and attract new business with the handy Zoom Meeting widget, included with most Website Builder plans.
Coming Soon…
In the next part of this series we'll discover an exciting and innovative method of promoting more interest in your products or services and generating a real buzz – the Countdown widget.