The Office365 packages that Names.co.uk offer are part of the Microsoft Small Business range of products, as such any support articles at http://office.microsoft.com may not look exactly the same as Microsoft offer other packages such as Enterprise Office365.
If you are interested in other Office365 products outside of our advertised range, please contact our Sales team who will see if we can arrange a suitable solution for you.
This article assumes that you have purchased your Office365 package and the supported setup has been completed.
To access the Office 365 portal you will first need to obtain the log in details.
The First thing you need to do is ensure you have logged into your Online Control Panel. If you need help logging in please follow this guide.
How to access the Online Control Panel
Now that you are logged in to your account, click on Manage Email beneath the domain Office 365 is attached to.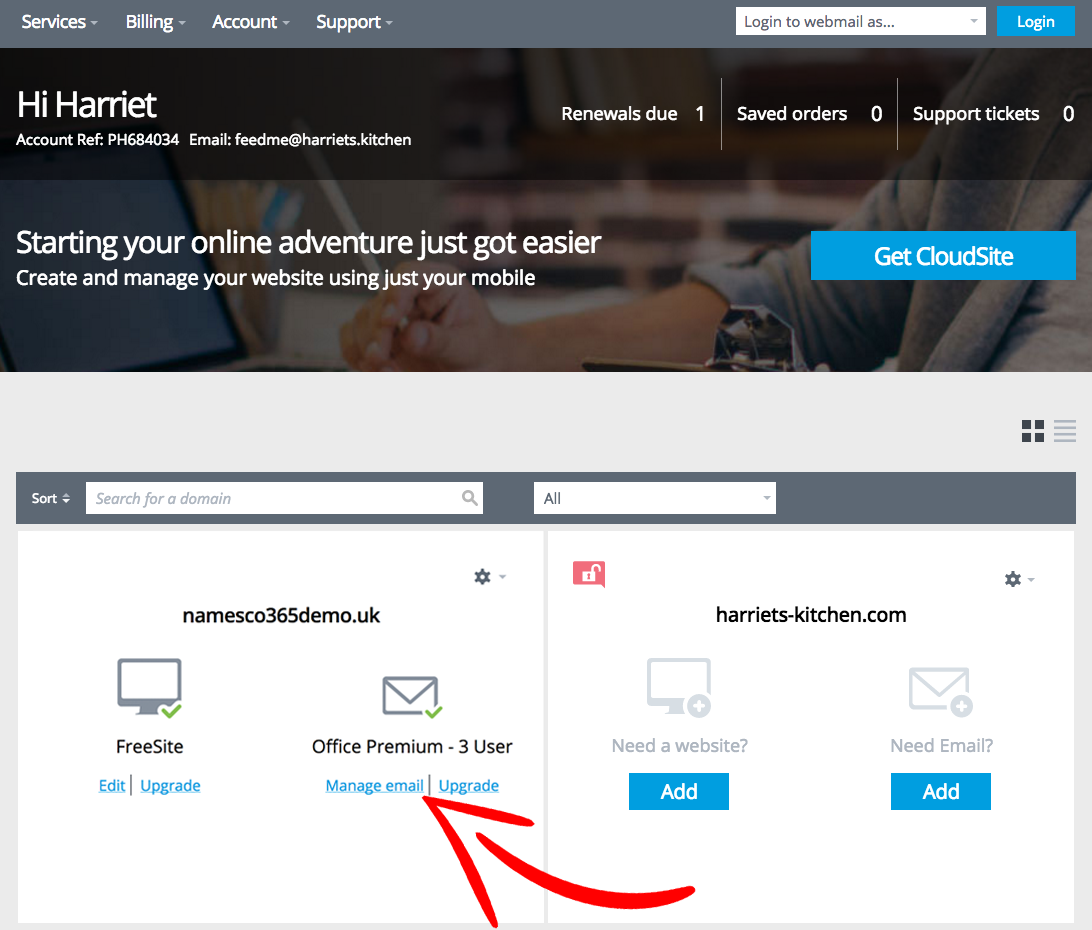 To view your login details click on ADMIN LOGIN DETAILS.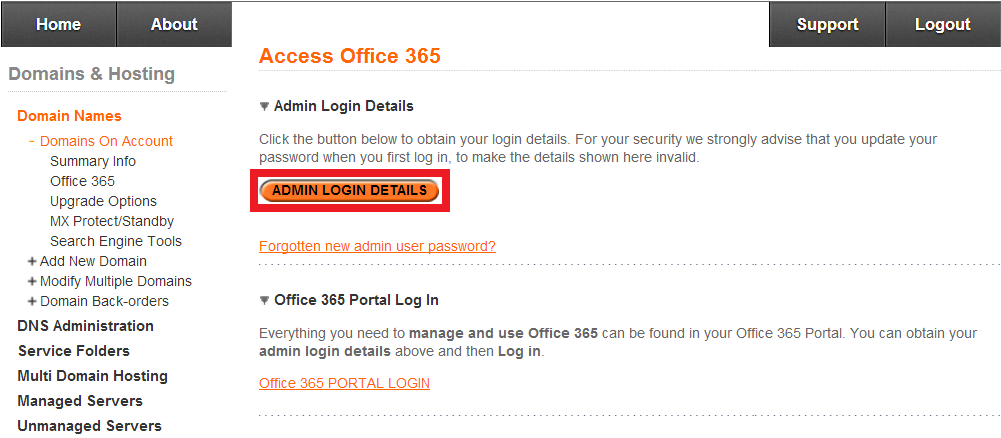 Please note that once you reset this password through the Office365 Portal, the password displayed here will no longer be valid. For security we encourage customers to update this as soon as it is convenient.
Now that we have the log in details go to https://portal.microsoftonline.com
and log in.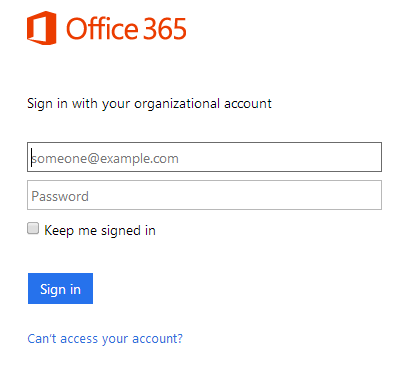 Now you should see the Office365 Admin panel as shown below: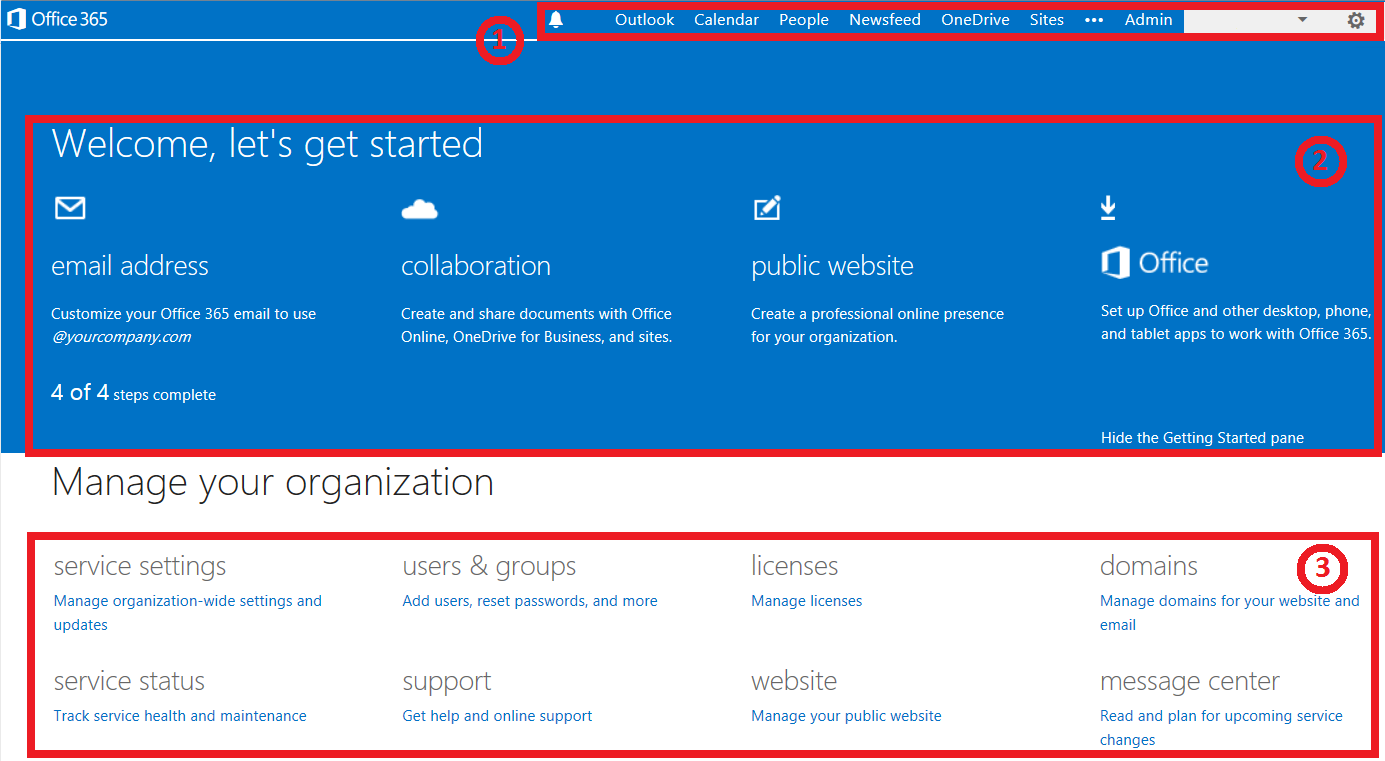 Section 1
This section is used to navigate between your services, such as Emails, Calendar, SharePoint etc... The two right hand options let you access your account settings.
Section 2
Here are the different quick start options you can use to guide you through setting up different aspects of your Office package. The email address section of this may have already been completed for you as part of the Supported Setup process. If it has not I recommend doing this first.
Section 3
This is the most used option from an Administrator point of view as it is where you can add/remove users (users and groups), assign services to each user (licenses), and manage the domain on your Office365 package (domains)
To start with I recommend selecting users and groups and ensuring you have each user created that you need. Then select licenses and ensure each user has access to the services they need, such as Exchange, Sharepoint and Link