Get your first (and very important) legal document – Create your Privacy Policy.
Regardless of the size of your online presence, having a Privacy Policy for your website and/or app is a standard legal requirement. Most likely, the laws that apply to you will mandate having a Privacy Policy.
Your Privacy Policy plays a crucial role in informing users about how you handle their personal data.
Did you know? If you own a website or app, you are likely already processing user data. Even IP addresses are considered personal data. Additionally, if your site or app uses features like sign-up forms or third-party services such as Google Analytics, Google Fonts, Google Maps, YouTube, social media widgets, or login buttons, you are processing user data.
---
Follow these steps to create your Privacy Policy
Choose an existing site/project or click on "Configure."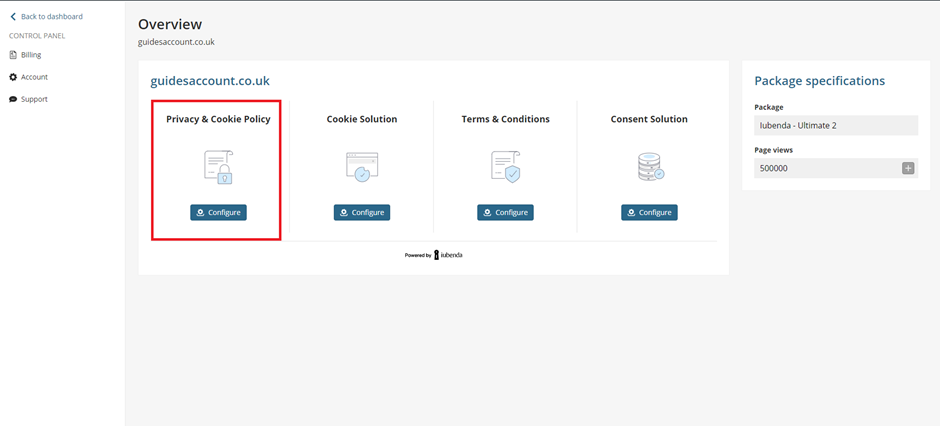 You will then be taken to our online compliance dashboard where you will need to select the option of 'Generate now' to proceed.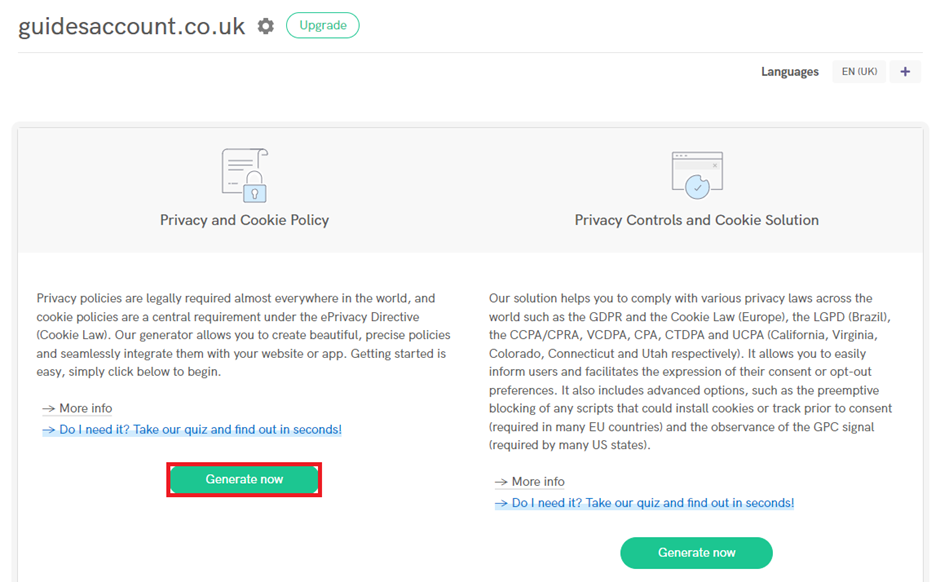 Experience the magic of our site scanner: Click on 'Add a service'.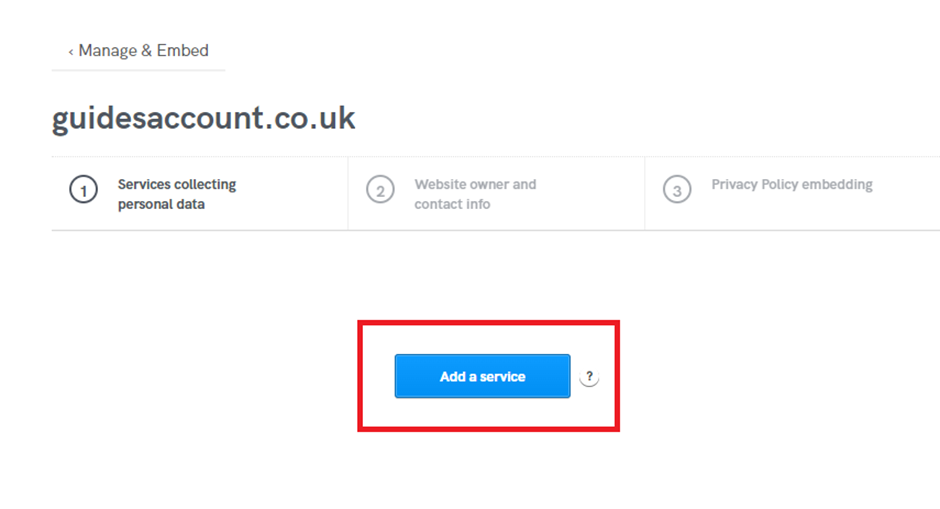 Then click on 'Scan website and auto-detect clauses.' Our site scanner will analyse your site and provide a customized configuration for your privacy policy!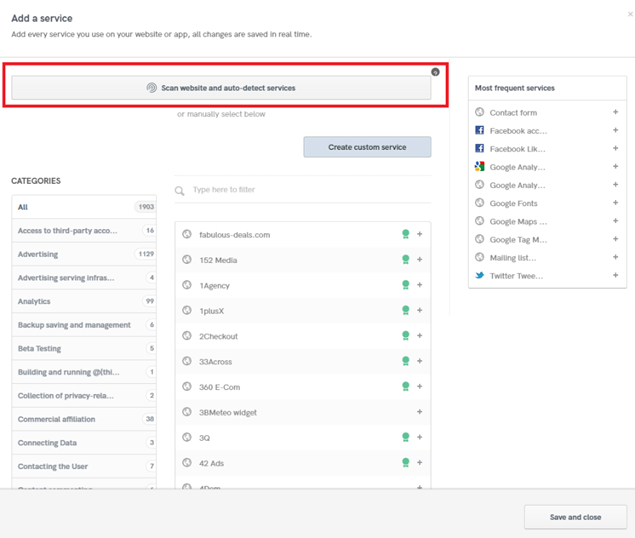 Next, you'll need to add these services, and to do so, you'll have to wait for the scanning tool to complete (you'll receive an email with further details).
Once the scan is completed, click back on 'Add a service,' and you'll notice a new section called "Perfect matches/Suggestions" at the top left of the page.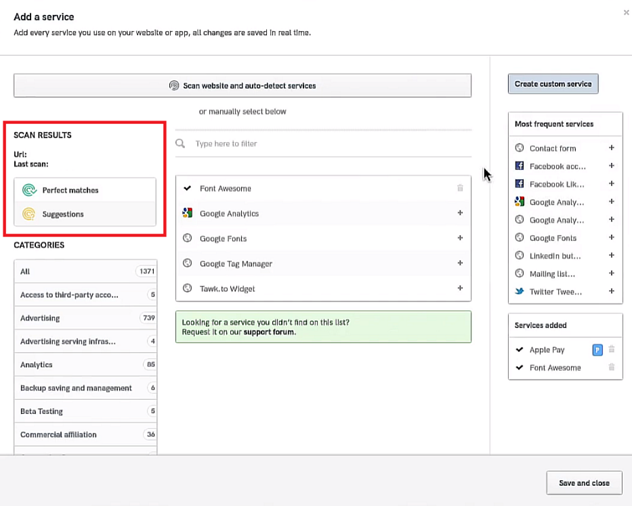 Warning: Please note that while our scanner is powerful, it can only detect technologies that are directly integrated into your site's pages. You will still need to manually add clauses related to data processing practices, such as newsletter sending.
Once you have chosen the clauses please click on 'Save and Close' to proceed to the next step.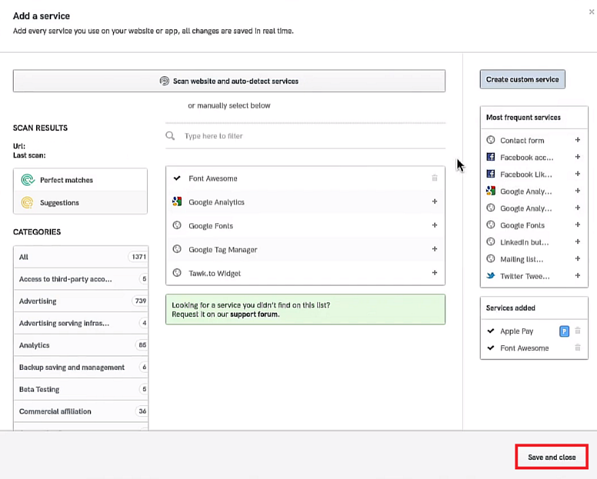 Legislation-specific standards: On the right side of the screen, you'll find a section labelled "Legislation-specific standards." Here, you can choose the cookie policy standards based on the applicable legislation. Enable and select the ones that align with your users' needs. If you're unsure about what to enable, you can find further explanations in the following links:
https://www.iubenda.com/en/help/5858-switch-privacy-policy-options
https://www.iubenda.com/en/help/65132-us-privacy-legislations-overview
https://www.iubenda.com/en/help/26706-lgpd-guide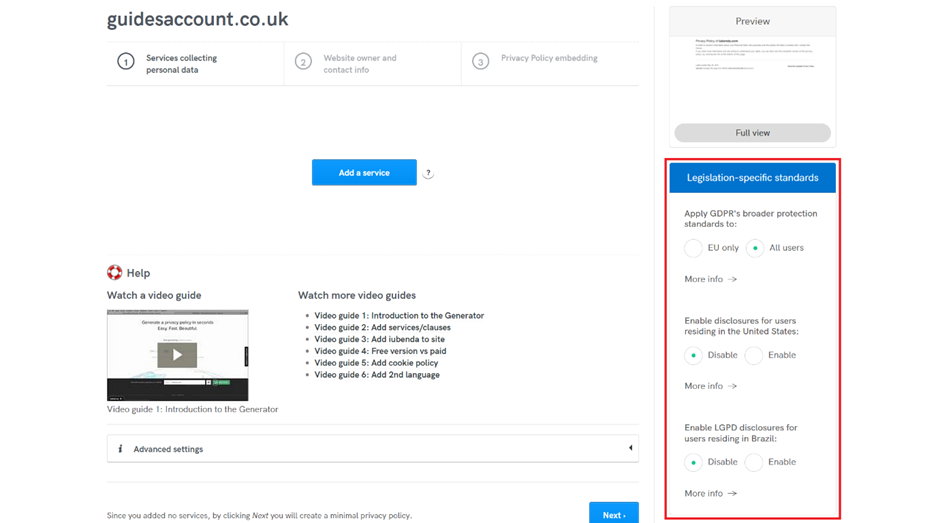 Creating your Cookie Policy
A Cookie Policy is required by the Cookie Law and provides detailed information about the cookies you use on your users' devices. After creating your Cookie Policy, you can easily link it to your Cookie Banner through the Cookie Solution.
Simply activate your Cookie Policy by clicking on "Activate cookie policy." • Done!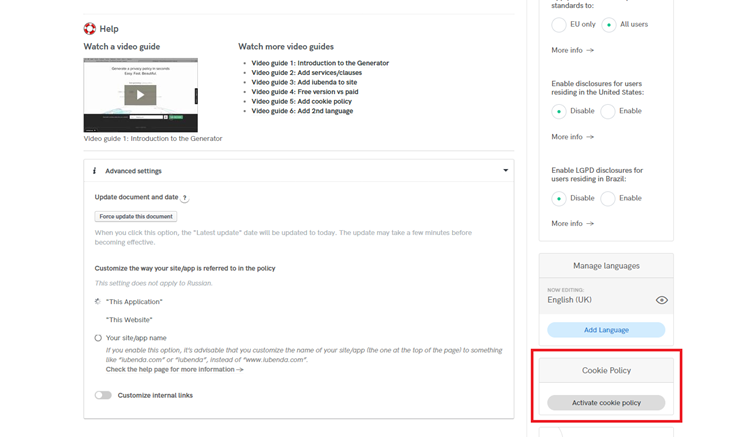 Thanks to the Cookie Database, your document will display the lifetime duration for each cookie. We also recommend adding all the languages that you believe your customers will use. You can add up to 10 languages to your document with just one click by selecting "Add language."
Info: Are you an app developer? Our Privacy and Cookie Policy Generator is fully optimized to meet the specific requirements of all major mobile app stores.
Creating your Privacy Policy and Cookie Policy with our tool will help ensure that you comply with legal obligations and provide transparency to your users regarding their privacy.
If you need some further assistance on embedding your policy I would advise looking at the official guide from our online compliance team explaining it more in detail: https://www.iubenda.com/en/help/231-ways-to-use-iubenda-privacy-policy-on-your-site-and-app
Congratulations! You've successfully configured your Privacy Policy. By following these steps, you have ensured compliance and provided a user-friendly experience regarding Privacy Policy.
---
Still having issues? If you have any questions, please raise a support request from within your Online Control Panel or call us at 01 5255768. Our customer support team will be happy to assist you.