Anyone who already has a .ie domain is aware of their power in demonstrating a real connection to Ireland that is trusted and recognised by Irish consumers.
The Irish Domain Registry have released their 2021 Domain Profile Report and it offers stunning evidence of just how essential .ie domains really are. 62,198 new .ie domains were registered in 2021, bringing the total live number to 330,108. Not only was this the second best year on record for registrations, but it was also a 24% increase compared to pre-pandemic 2019.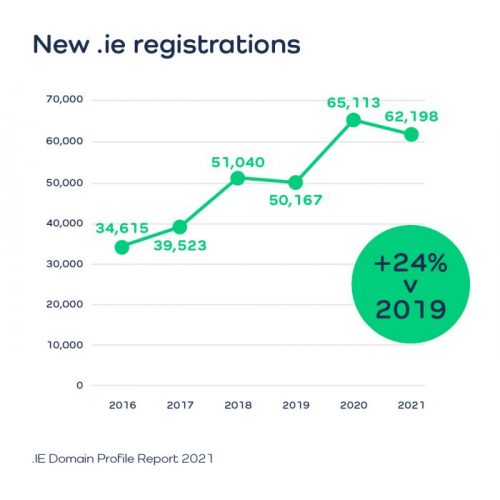 Ireland began 2021 in a strict Covid lockdown and so thousands of SMEs reacted to the closure of traditional retail by taking their shops online instead. New registrations surged for the first quarter of the year as businesses rushed to ensure they could still communicate with their customers and trade comfortably during the months of enforced isolation.
When high streets re-opened in July the rate of new .ie registrations declined, but only temporarily. As evidence of the changing shift in consumer behaviour, new domains increased once more in August when SMEs sought to enhance their online presence and ensure they weren't being left behind.
Businesses are no longer reacting to the pandemic and are instead pro-actively anticipating the demands of their customers by investing in new websites and harnessing Ecommerce technologies.
.ie domains now account for over 52% of all domains in Ireland, ahead of .com by over 20%. What's more, it's also one of the fastest growing country domains in Europe, demonstrating how Irish businesses are leading the way in accelerating digital adoption.
2021 Key Points
62,198 new .ie domains registered
Increase in registrations by 24% compared to 2019
Total number of .ie domains increased by 6.5% on 2020
Registrations in H1 increased by 1.7% compared to H1 2020
Second best year on record for new domain registrations
If you're looking to do business in Ireland then there's never been a better time to own a .ie domain. It will help you engage the Irish market, rank higher in google.ie and, thanks to the rigorous application process, you'll be able to prove you're a legitimate business by using one of the world's safest domain extensions.
There's no doubt that the popularity of .ie domains is here to stay and we're really excited to see just how much they will continue to grow during 2022.
Make sure you don't miss out either – for a limited time only, you can register a .ie domain on our website for just €2.99. Grab yours today and tap into the power of .ie, known and trusted across the whole of Ireland!