Would your business suffer if your website went down?
In today's world, a website is essential. Not only could you suffer from loss of income without one, but you may also incur reputational damage as well. Just one of those would be bad enough!
That's why it's so important to make sure you've got a recent backup of all your website files. Should the worst happen, you can then quickly restore everything back to how it was. The last thing you want is to spend hours (or even days!) frantically trying to recreate the website from scratch.
Naturally, as a responsible hosting provider, we ourselves perform regular backups that we can restore from in the rare event of a server failure. But what if you're updating the website and accidentally change the wrong page? Despite best efforts, human error could strike at any time. Our server backups wouldn't normally be available to you in that situation.
Restore your website with one click
Luckily, with each of our various Web Hosting packages – whether WordPress, cPanel, Linux or Windows – we offer an optional add-on package that allows you to access, and restore from, our own backups at any time.
The appearance of the page will vary depending on your specific package, but in all cases you'll be able to quickly see all of the various backups that we have made of your website.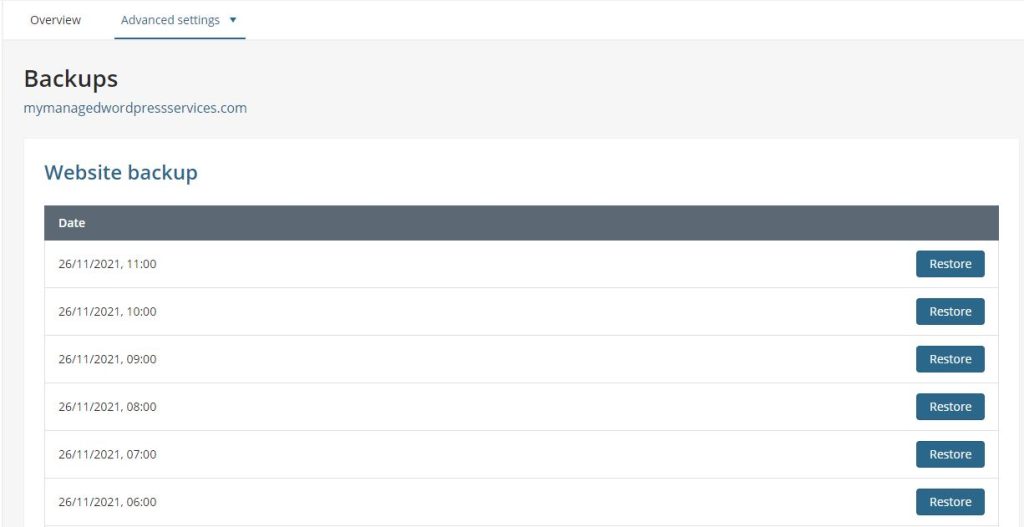 A simple Restore button beside each one allows you to make it live with just a single click of the mouse, offering a super-simple method to recover from disaster. No stress or hassle, just total peace of mind!
Enquire today about Website Backups
Protect your website and ensure business continuity in case of disaster. Call us today on 01 5255768 and ask about our Website Backups add-on package.