Would you like to grow your business and bring more sales in? Of course you would, but sometimes you're so busy being the social media manager, accounts administrator, personal assistant, customer support etc., that getting a website is the last thing on your mind. We get that.
Time is money and you're already up to your eyeballs in tasks, but we have a tool that can help make your life easier and get your business online. It's called Site Assistant and it comes as part of our Managed WordPress packages. Site Assistant creates a website with everything you need for your business, in just a few minutes.
How does Site Assistant work?
It starts by asking you a few simple questions about what type of business you have and what sort of features you want on your website. It then generates a number of attractive website designs that are customised just for you. You simply pick the one you like the best and your website template will be created for you. From there, all you need to do is fill it out with your own content.
Here's how it works in just 5 steps:
Step 1: Choose your industry
Whether you want to create a website or online shop for a photographer, advisor, restaurant, car garage or any other business, Site Assistant will create a beautiful website that suits your specific needs. Simply choose your business type from the business list to begin.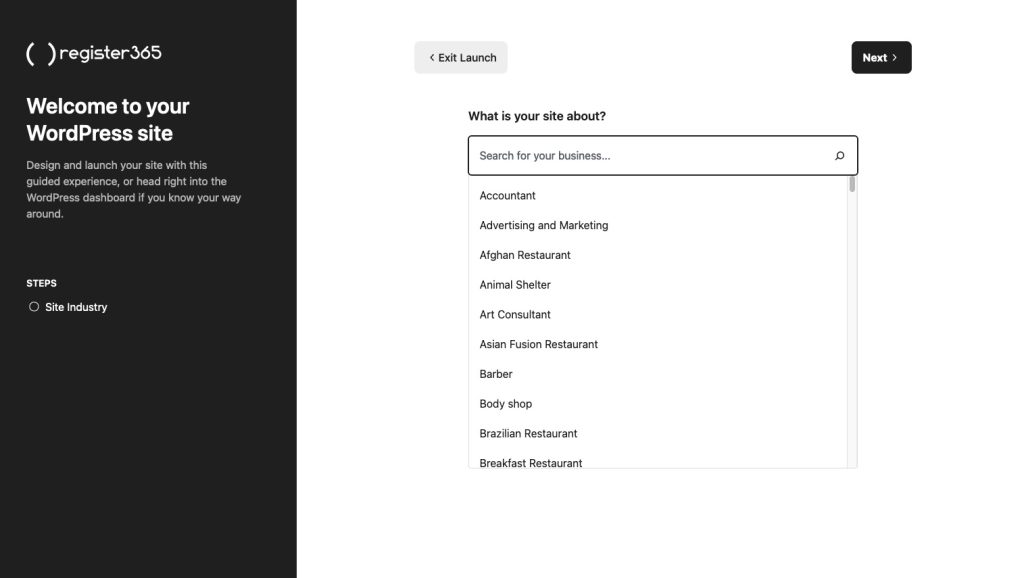 Step 2: Select your website goals
Do you want to sell products or services or collect donations? What about allowing online bookings or offering training courses? How about publishing a blog or creating a way for people to contact you? Whatever you want your site to do, Site Assistant will have the features you need.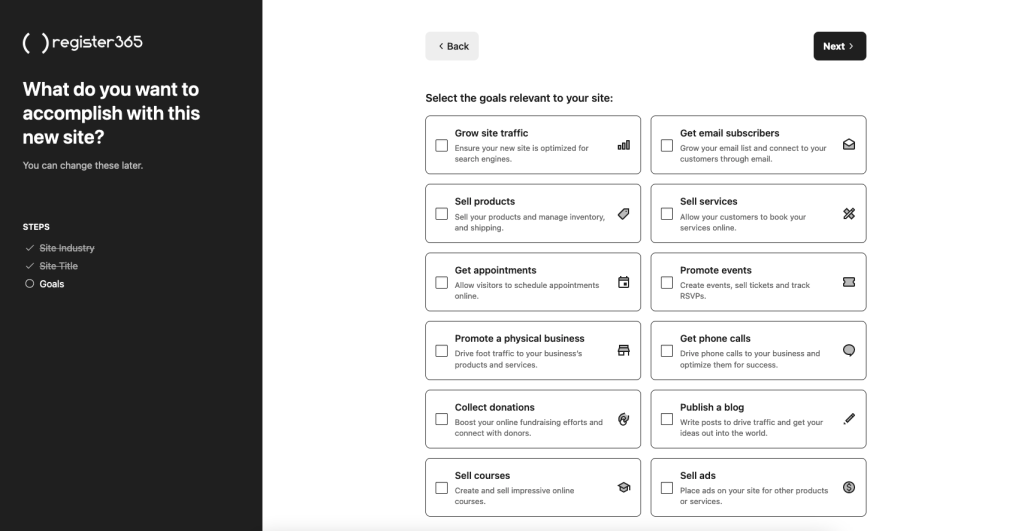 Step 3: Pick your template
Browse dozens of professionally-created templates that are tailored to your exact choices. All of them are fully mobile optimised, so they'll look and work great on mobiles and tablets. From minimalist to modern, soft to edgy, soothing to vibrant, every type of website design is accommodated.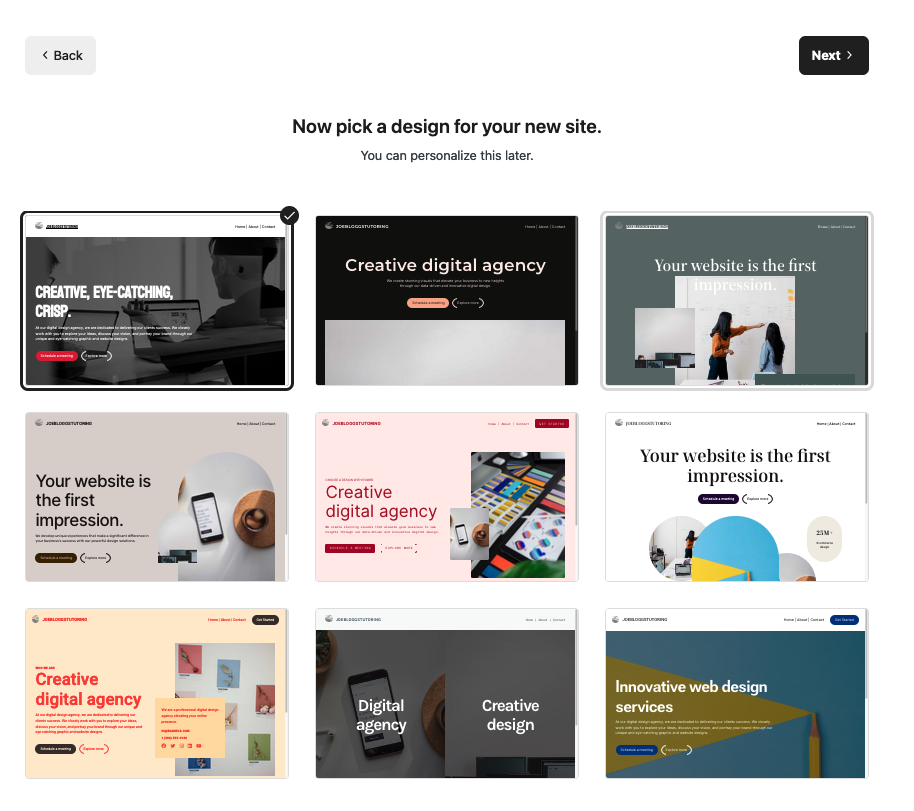 Step 4: Add your pages
Based on your selections, Site Assistant suggests which pages you need and creates them for you immediately. This way, you can be up and running with a complete website in no time at all. All you will need to do is replace the text and images with your own. So quick and easy!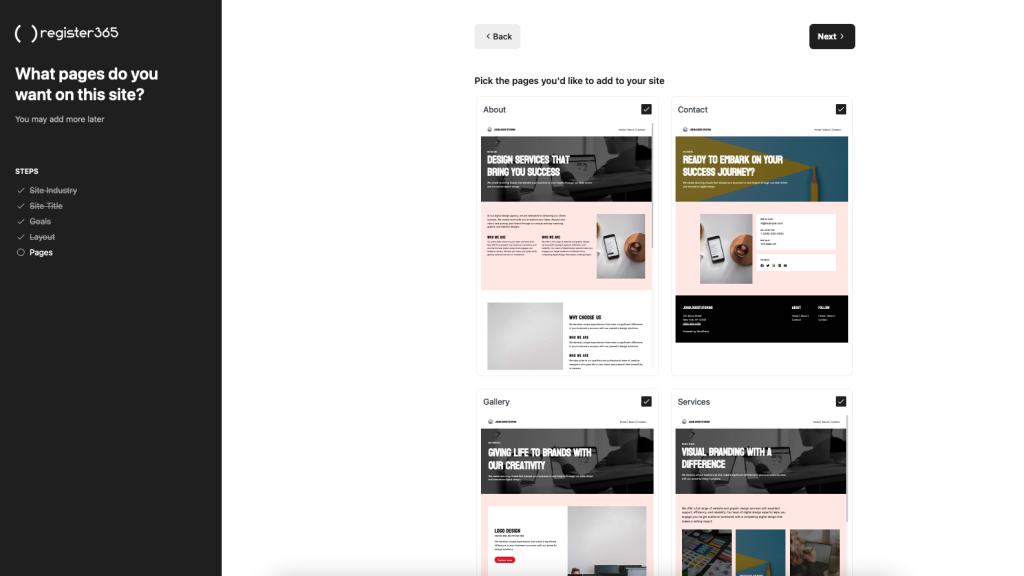 Step 5: Review & Launch
The final step is the most important step – pushing your website live! Simply review everything you've done so far and once you're happy with your choices, click 'Launch site' and Site Assistant will work its magic. Once live, you will need to update the content and images to make it your own and then you can start sharing your business with the whole world.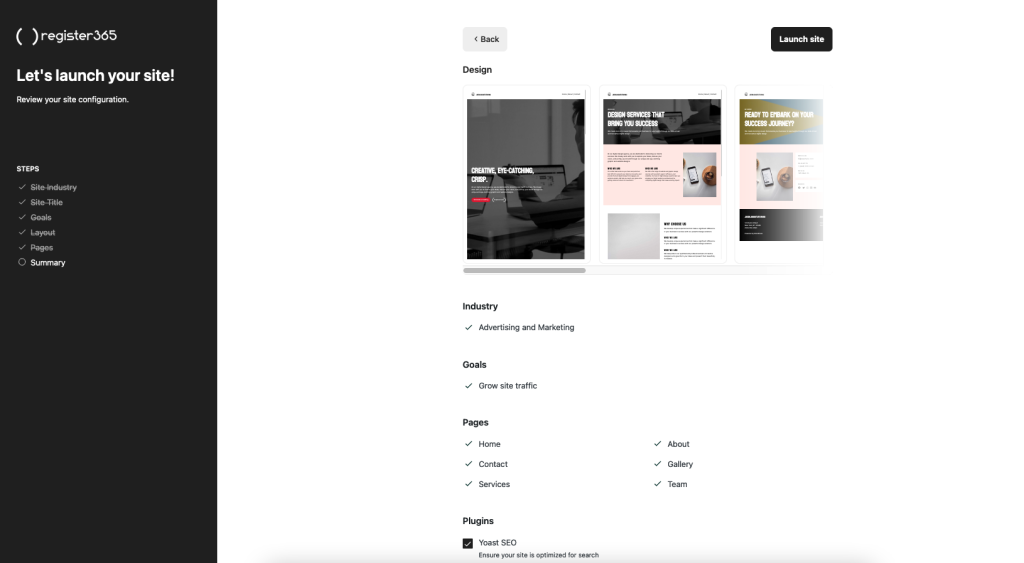 How is Site Assistant managed?
Site Assistant is easily managed via its intuitive and user-friendly Dashboard. A helpful task list walks you through the process of finishing off the website, hand-holding you through uploading your logo, adding a new page, editing the description and more.
Plus it's jam-packed with useful tours and recommendations that show you how to get the most out of your website and what sort of other items you may want to consider (such as search engine optimisation, for example).
Site Assistant comes as part of our Managed WordPress Hosting packages so not only is it easy to create and manage your website, it means we'll take care of the behind the scenes stuff for you too.
You won't ever need to worry about the small, time-consuming odd jobs as each package includes WordPress and plugin updates, automated hourly backups and 1-click backup restore.
So why not give it a go?
With Site Assistant, it's now easier than ever to take your business online, expand your reach and boost your brand.